Excursions in Hydra
A visitor can get to know the mainland and the Monasteries of the island of Hydra with donkeys or by walking.
There is no other transportation to the Island. As a start point the Church of Saint Konstantinos of Hydra, we follow the route, which leads to the Monastery of Prophet Elias.
It is a plain and beautiful man Monastery, in where, Kolokotronis, the hero of Greek Revolution, was imprisoned. During the route we meet a pine tree forest and in the place of Palion Kalograion a woman Monastery. In the courtyard of the Monastery of Prophet Elias there is drinking water and stables.
The route from Hydra is easy and it needs only 45 minutes. Near the Monastery of Prophet Elias, is the woman Monastery of Saint Eypraxias.
Not too far away from the Monastery of Prophet Elias lies the tallest mountain of Hydra, called Eros (598 meters), with a wonderful view of the pelagos.
To the east side of Hydra is located the Monastery of Virgin Mary of Zoubras. It is a beautiful Monastery of 1814 with tremendous view.
In order for someone to go to the woman Monastery of Saint Nikolaos (17th century) he will walk an easy route and from there he can admire the view.
From the beach of Molos starts a route which passes by pine trees and ends to the place Episkopi, an archaeological site.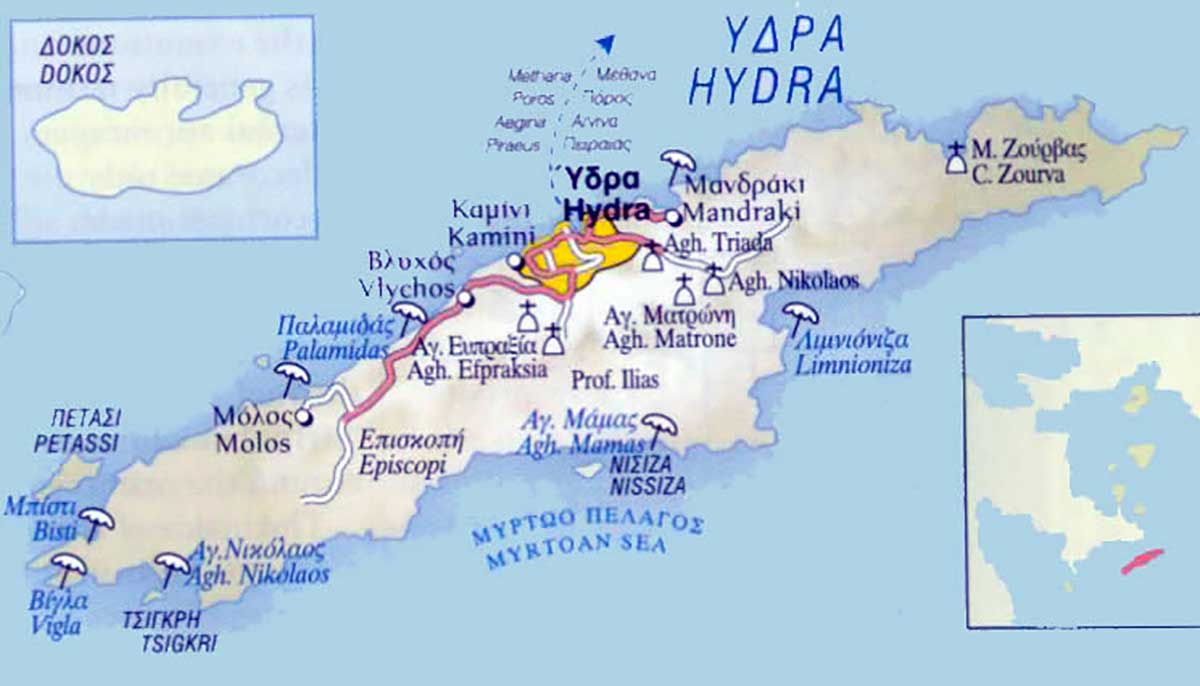 Other Monasteries that Hydra has are the ones of Saint Foteinis, Saint Matronas and Holy Trinity. Because of the lack of transportation in Hydra, we have to use sea transportation and sea taxi in order to reach to the beaches of the island. With boat or ship or sea taxi, we start from the main port and we reach to the place Vliho.
As we continue west of Vlihos, we find the beautiful sandy beach of Palamidas, and after Zastani rock we find the secluded beach of Saint Kiprianos.
Next we have got the beach of Molos, to the south-west side of the island and Kaoumithi, a beach with thick sand.
From here we continue to cove Bisti, with the large beach and close to it we can see the beautiful beach of Saint George, surrounded by pine trees and to the hill there is its Church.
From the south west of the island we also reach the cove of Saint Nikolaos, where we can find a beautiful secluded beach with clear waters and pebbles.
To the east we reach another beach with pine trees, called Nisiza and after that we reach Klimaki and Limnioza, a most beautiful beach. From the cove of Zoubra and to the southeast and northeast side of Hydra, we reach Mandraki, with organized beach and hotel.
The round of the island, as an excursion, is being done daily, with boat, starting from 11.00 in the morning from the main port.